Samsung Gear VR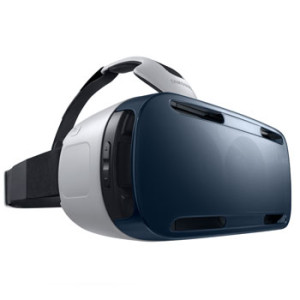 One of the top virtual reality headsets to come out in recent years has undeniably been the Samsung Gear VR – designed to work exclusively with Samsung devices, specifically the Galaxy S6. There have been some other headsets that are fully integrated and those aimed at Smartphones like the iPhone, but the Samsung Gear VR has managed to find an equal balance between both in almost every regard, from overall price and graphics to compatibility with other media. Perhaps the nicest thing about the Samsung Gear VR is probably its versatility though – for those who have a Galaxy already, the Gear VR is like a handy extension, and because of the high pixel quality of the Galaxy it is still able to keep up with top line VR headsets. It's also extremely well balanced and comfortable, as opposed to some cheaper options for other Smartphones like the Google Cardboard.
What really sold us on this 'versatility' element of the Samsung Gear VR had to be the fact that it was more or less self-contained. The higher grade headsets like the Oculus Rift, for example, require access to a PC, but the Gear VR only needs the Galaxy S6 to be functional. On top of this, it also seems as if Samsung has a much more accessible community and media options for their users that well surpasses other headsets: this includes access to Oculus Cinema and Oculus 360 videos that can be downloaded as an app from the Oculus store and are fully compatible, giving you access to a pretty wide array of media from full length movies to state of the art games.
User Experience on the Samsung Gear VR
As can be expected from a mid to top level device like Samsung Gear VR, the general feel has been positive, and their demographic is noticeably larger on account of being able to supply an affordable interface with quality (in terms of graphics, frame rate, and head motion tracking sensors) that rivals even the more expensive headsets. If we're going to talk about 'versatility' again and how it relates to user friendliness, then we also have to mention that the apps and programs being produced by and for the Samsung Gear VR put their members right at the forefront of the technology – not only in terms of experiencing it first hand, but also in *creating* it.
With the Galaxy S7 and Galaxy S7 Edge, the new Qualcomm's Snapdragon 820 chip has allowed the same company that created it to offer a virtual tool kit to users that will let them virtually write and rewrite apps and software for the Samsung Gear VR headset. This is extremely interesting because it offers up a 'sand-box' style ability to innovators to start producing their own independent content, and with nearly 1.4 million headsets slated to be sold this year the growing community will also likely foster some interesting open-source downloads. Because producing quality in 2D is hard enough, it's also quite remarkable that Qualcomm was able to design a toolkit that will help users understand the dynamics of producing content in 360 degrees and 3D.
Technical Specs and Pricing
At 319 grams with dimensions of 92.6 x 201.9 x 116.4 mm, the Samsung Gear VR is also one of the lightest and most compact headsets. On top of this, we really enjoyed the omni-directional pad on the side of the headset that allows you to set the calibration to suit you specifically. The one downside, and something that would be interesting to see adapted to newer models, would be the addition of external devices (such as controllers, which is a staple feature of the Oculus Rift, for example). It also has a number of internal sensors, and these are attributed to both an accelerometer, gyro sensor (for positioning), and proximity sensor. To avoid overheating there is also a very streamlined cooling fan system that pumps air across it without it affecting your vision or the experience. It also features a volume button on the side for easy access. In all, it's an extremely tight little bundle and its user friendliness is more or less tied up in its multi-functional applications. Still, some people have expressed concern about it taking a little while to get used to using all of the different buttons and controls (especially sense you have to do it by touch alone).
The price tag on the Samsung Gear VR as we mentioned is by far one of the most affordable of the mid/high range headsets at $139.99 – so still an expenditure for sure, but by no means as pricey as the Oculus Rift, and much more durable and longer lasting than the flimsy cardboard and plastic headsets for lower tier Smartphone headsets.
The one thing we would have liked to have seen, despite the fact it's already extremely light, might have been a more secure strap. As it is, it features a single band that wraps around the head – although light, extended use can tend to be a bit uncomfortable, so if you plan to use it a lot we recommend a lateral strap that goes across the top of your head and allows for a more snug fit that doesn't pull down on the forehead or ears.
What You Can Expect In the Future
As we've seen, there are already 1.4 million Samsung Gear VR headsets expected to be sold in 2016, and this number will only increase. As the technology becomes more popularized, and studios and producers are able to master and develop more and immersive content in the forms of games and videos, we can probably see an influx of new gaming and cinematic experiences. The open-source availability of some software is also a huge selling point for the future potential of the Samsung Gear VR, and will probably be a favorite of tech-nerds and amateurs alike who will literally have the ability to create their own 3D worlds and explore them virtually. Of course, the only limiting factor on the Gear VR is that you have to already be a Samsung user with a Galaxy device – or are planning to purchase one in conjunction with the headset. That said, we give the Samsung Gear VR a solid 8.5 out of 10.